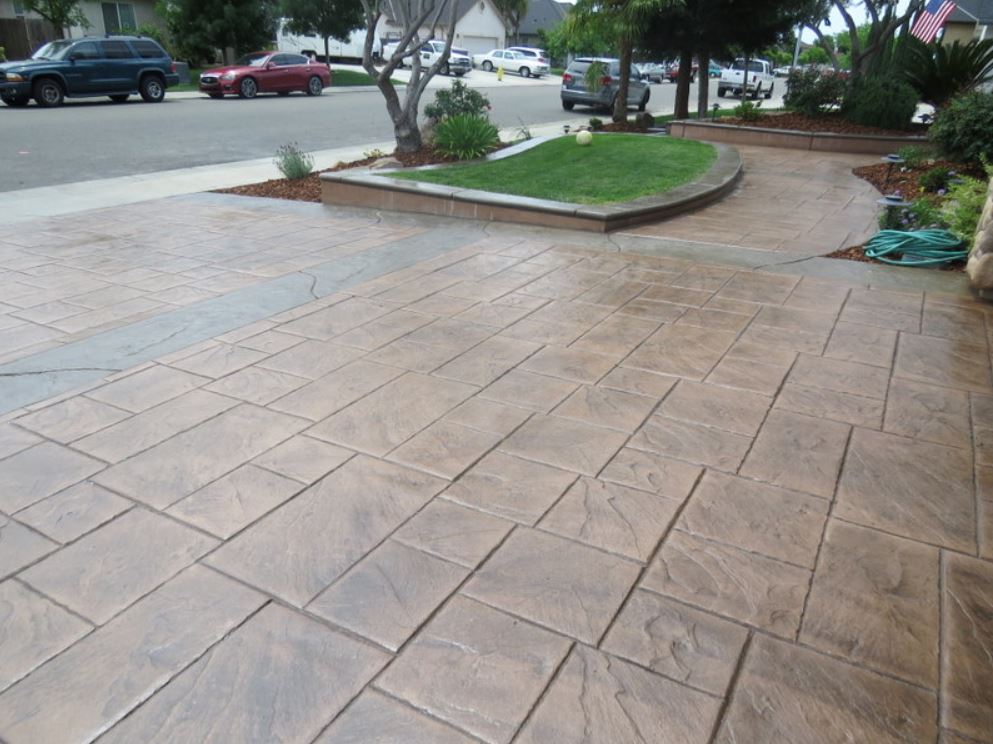 Fontana Concrete Company is a full-service concrete contractor that offers stamped concrete services in Fontana, California, and the surrounding area. Our team of experienced professionals has years of experience in the stamped concrete industry, and we are dedicated to providing our clients with high-quality workmanship and customer service.  Call us at (909) 766-9768 for free estimates.
About Fontana Concrete Company
There are a number of concrete companies in Fontana to choose from, but what makes Fontana Concrete Company the best? We use the latest techniques and equipment to produce high-quality concrete that is perfect for your home or business. Our team has years of experience in the industry, so you can trust us to get the job done right. Contact (909) 766-9768 today for a free estimate!
Understanding Stamped Concrete
Stamped concrete is a type of stamped and colored concrete that resembles stone, brick, or other materials. It is commonly used for patios, driveways, walkways, and pool decks because it can be stamped to look like wood planks or stamped with patterns that mimic the appearance of stone pavers. Stamped concrete comes in many different colors and patterns, so you can find the perfect stamped concrete for your home or business.
There are many types of stamped concrete available to choose from when it comes to stamped concrete. For example, stamped and colored concrete can be used in place of tile or brick pavers because it has a similar look and feels without having to worry about cracking over time. Stamped concrete is also a great choice for walkways and patios because it is durable and easy to maintain, making stamped concrete the perfect option for homeowners who want an attractive outdoor space without breaking their budget!
Advantages of Stamped Concrete
Looking for a way to improve your home's curb appeal? Stamped concrete might be the perfect solution. This durable, versatile material can be used for a variety of projects, from driveways and walkways to patios and pool decks. Here are just a few of the advantages of stamped concrete: 
Affordable
One of the biggest benefits of stamped concrete is its affordability. Compared to other materials like pavers or stone, it's much more cost-effective.
Lasts Long
Stamped concrete is extremely durable and can last for many years with minimal upkeep.
Versatile
Stamped concrete can be used for a variety of projects, both big and small. You can create virtually an unlimited number of designs and patterns with stamped concrete, so you can create a unique look that's perfect for your home or business.
If you're considering stamped concrete for your next project, contact Fontana Concrete Company today for a free consultation! We'll work with you to design the perfect stamped concrete solution for your needs.
How Do Our Experts Install Stamped Concrete?
The stamped concrete installation process can vary depending on the size and scope of the project, but in general, it will follow these steps:
Prep Work
The first step is to prepare the surface where stamped concrete will be installed. This may include grinding down bumps or removing old material such as asphalt or concrete.
Forming
The forms are set up to create the stamped concrete shape and design. They are typically made from wood or steel, but some stamped concretes can be formed with plastic molds instead. These forms will help determine where stamped concrete is poured as well as its final look when completed!
Pouring
Once all of these steps have been completed, then stamped concrete is poured into the forms and left to cure before being stamped with patterns.
Stamping
When stamped concrete has cured enough time, it will be stamped with patterned impressions using a roller or stamping tool. The results are beautiful designs that look like real stone pavers!
Finishing Touches
The stamped concrete will need to be sealed with a sealant to protect it from weathering and staining to complete this project.
Hire Fontana Concrete Company
If you are looking for a quality concrete company in Fontana, CA, look no further than Fontana Concrete Company. We have many years of experience providing top-notch concrete services to residential and commercial property owners alike. Our team is highly skilled and can handle any kind of project, big or small. We always strive to provide our customers with the best possible service and value for their money. So if you're in need of a reliable concrete contractor, give us a call today at (909) 766-9768! We would be happy to discuss your project with you and provide a free estimate.